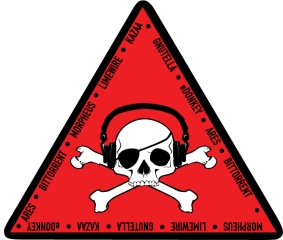 The Perils of Filesharing
Peer-to-peer (P2P) filesharing software such as Gnutella, LimeWire, BitTorrent or AresWarez may seem like a convenient way to download music and movies, but this convenience is a double-edged sword.
When you download files using filesharing programs, those files are shared with everyone else on the Internet. Copyright holders are vigilant and are always poised to pursue legal action against people--including you--who are sharing these files.
Legal Risks
Sharing files without the permission of the copyright owner puts you at risk of a criminal and/or civil lawsuit. If you are found to have infringed on copyright you may be liable for damages up to $30,000 for each work infringed and if willful infringement can be proven then damages can go as high as $150,000 for each work infringed. For more information see the "Copyright Infringement and Remedies" [txt] [pdf] document maintained by the U.S. Copyright Office
Unauthorized distribution of copyrighted material also violates the university's Acceptable Use Policy. Those who violate this policy are subject to further disciplinary action by Student Judicial Affairs. Sanctions can include loss of network access privileges and disciplinary probation.
Security Risks
Filesharing applications expose you to unnecessary security risks. Some successful computer viruses propagate through filesharing networks. Computers that are infected with viruses are removed from the university's network until the virus can be removed.
Need Help?
Do you need help removing filesharing software or filesharing-related computer virus infections?
The Information Services Helpdesk and Housing Residence Hall Helpdesk (RESNET) can provide help with removing P2P software, in addition to other computer related services. RESNET only provides technical support to students living in the UO Residence Halls. The Information Services Helpdesk provide supports to all UO affiliated students, staff, and faculty.
Extensive clean-up jobs are usually referred to the Electronics Shop in 151 McKenzie Hall, where technicians remove viruses and malware for a fee.